Niagara Peninsula Homes' 3rd Annual Trivia Night Fundraiser was held on November 24th, 2018 at Club Italia, in Niagara Falls, and the event was a huge success! Our organization was able to raise over $16,000 to be directly donated to the Niagara Women's Enterprise Centre! These funds will continue to assist women and youth to gain the knowledge and skills they need to secure meaningful employment and further education via free programming and scholarship and bursaries.
THANK YOU FOR YOUR SUPPORT!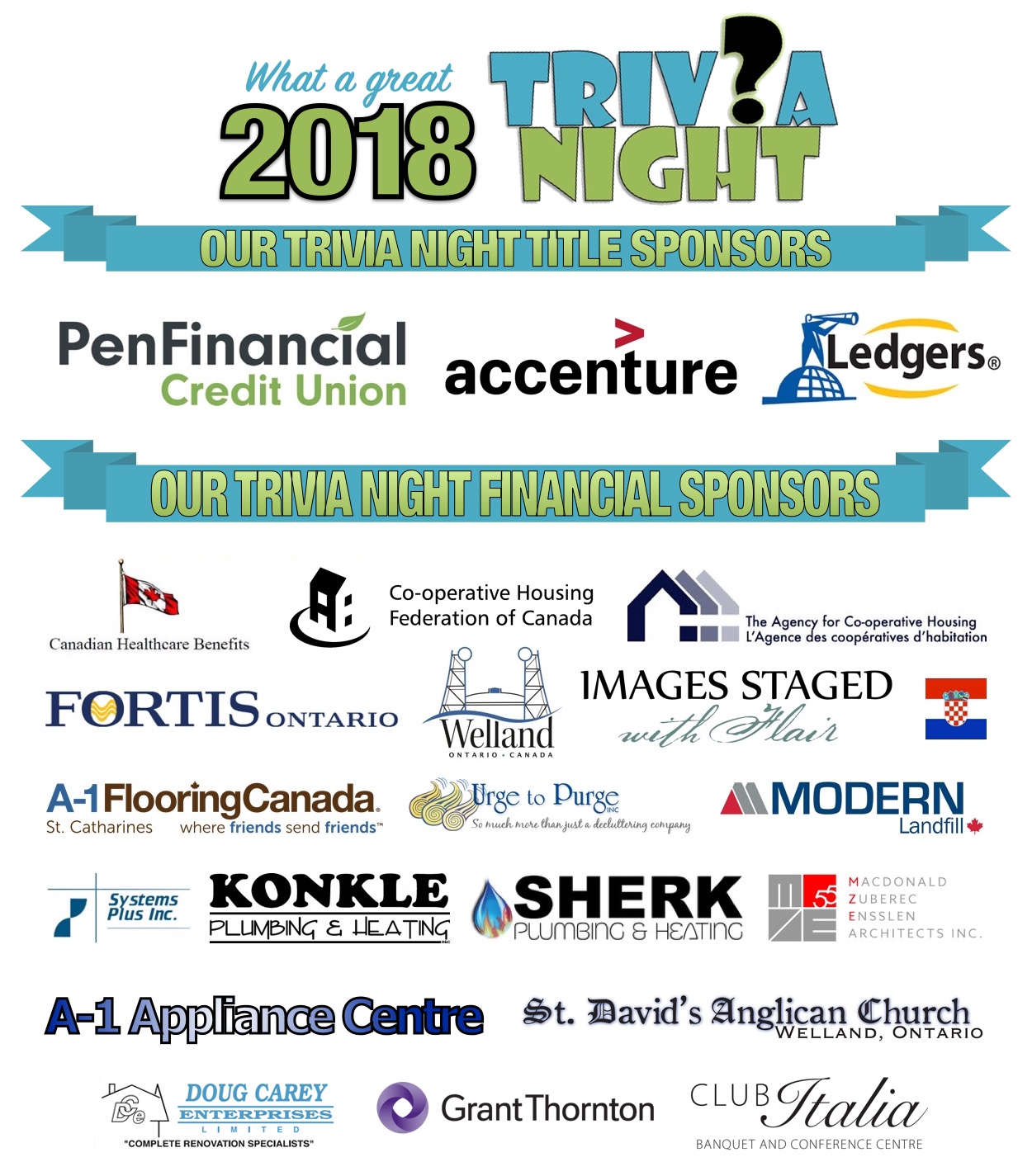 Also, great financial support came from:
Arbour Village Co-Operative Homes Inc., St. Charles Co-op, Southern Lights Co-Operative Homes Inc., Port Colborne Co-Operative Homes Inc., Women's Community Co-Operative Inc., Charles (Chuck) Greenham and A&J Appliance Centre. We could not have done it without them.
---
Here are some links to the above-mentioned sponsors:
Pen Financial | Accenture | Ledgers | Canadian Healthcare Benefits | The Agency for Co-Op Housing | CHF Canada | City of Welland | Fortis Ontario Inc. | MZE Architects & Design | Images Staged With Flair | Systems Plus | Urge to Purge | Modern Corporation | A1 Flooring | The Welland Croatian National Home | Konkle Plumbing & Heating | Sherk Plumbing & Heating | A-1 Appliance Centre | St. Davids Anglican Church | Doug Carey Enterprises Ltd. | Club Italia
Donors
13th Street Winery
A&W – Seaway Mall
Art Gallery of Hamilton
Art Gallery of Ontario (AGO)
Bamboo Natural Food Market
(The) Barber's Chair
Beechwood Doughnuts
Beechwood Golf and Country Club
Best Western Plus: Rose City Suites
Bike Fit
Bird Kingdom
BMO – Seaway Mall
Bocchinfuso Funeral Homes Inc.
Boston Pizza – Welland
Brand Blvd.
Brimstone Brewing
Brock Golf Course
(The) Buffalo Bills
Canadian National Exhibition
(The) City of Hamilton – Stadium and Golf Operations Crew
Chateau Des Charmes
(The) Cheesecake Factory
(The) Club at White Oaks
CMH Sales and Lease
CN Tower
(The) Cooperators
Costco
Creekside Winery
(The) Crux Escape Rooms Inc.

Doncor.com Website Design
Della Terra
DMZ Paintball
Elen Vitale Salon & Day Spa
Energy Fitness
Evalyn's Sandwich Factory
Falls Manor Restaurant and Resort
First Ontario Performing Arts Centre
(The) Flying Squirrel Indoor Trampoline Park
Foster Festival Fresco's
Fulton Fitness
FYI Doctors
Grand Niagara Golf Club
Grape Escape Wine Tours
Greg Frewin Theatre
Hamilton Philanthropic Orchestra
Hamilton Tiger Cats
Hockey Hall of Fame
HOCO Entertainment

Horseplay Niagara
International Country Club of Niagara
Jackson Triggs
Jerry's Pizza House

Joseph's Estate Wines
The) Keg Steakhouse
Kinetic Synergy
Lailey Winery
Lakeport Paint and Wallpaper
Lakeside Pottery
Left Field Brewery
Leisure Loft
Manor Cleaners
Marble Slab Creamery
Marineland
Mariposa Cruises
Medieval Times
MLSE
Moksha Hot Yoga – St. Catharines Location
Moose and Pepper Bistro
Mugs 'N' Meeples
Niagara College
Niagara Falls Museums
Niagara Falls Yoga Centre
Niagara Grape and Wine Festival
Niagara Helicopters Ltd.
Niagara Ice Dogs
Niagara Inflatables and Games Inc.
Niagara Parks Commission
Niagara Peninsula Conservation Authority
Niagara Pumphouse
Niagara River Lions
Niagara Segway
Niagara Sports Practice Centre
Niagara Symphony Orchestra

Niagara This Week
(The) Office of Christ Bittle, MP
(The) Office of Dean Allison, MP
(The) Office of Sam Oosterhoff, MPP (Niagara West)
(The) Office of the Mayor of Niagara Falls
(The) Office of the Mayor of Port Colborne
(The) Office of Wayne Gates, MPP (Niagara Falls)
Ontario Power Generation
Ontario Science Centre
(The) Painted Turtle

PCS Niagara Personal Optical
Pillitteri
(The) Printing House
Renaissance Salon
Rise Above
Runners Edge
Sangster Health Centre
Sherkston Paintball
Showboat Festival Theatre
Simpson's Pharmasave
Spicy Thai
St. Charles Co-op
Steamwhistle Brewery
That's Entertainment
Things Engraved
Thorold Community Centre
(The) Toronto Blue Jays
Toronto International Film Festival
VIA Rail
(The) Watering Can

(A) Yellow Flower Basket
Zap Zone Niagara
Zippy Zoom – Welland